As a teacher, I am always encouraging my students to learn outside of the classroom. As a sewing enthusiast, I like the idea of the young boys and girls learning how to sew.
When I was a little girl, I did a lot of sewing for Barbie and the knock-off dolls I owned. My medium was Kleenex and scotch tape at first. Then I used fabrics - rags actually. And needle and thread. This was my first foray into sewing. I graduated to sewing classes that made clothes for me and skipped the step where I made elaborate clothes for my dolls.
I see all kinds of patterns for elaborate dresses and costumes for Barbie now. I have no idea if they have been around for years (and I was just not in the "know") or if these are a relatively new invention.
Here's an example of a dress pattern for Barbie from Butterick. There are tons of them listed on Ebay. There are also some free patterns for making Barbie clothes, like this one.
So then I thought about the doll kit, I purchased and sewed by hand in Florida one winter break. And I went looking for doll patterns on the internet. I had one of those kits with a plastic head - that looked something like a cabbage patch doll - but there is no reason why a rag doll wouldn't be a good first project for a child.
I really like the doll and the instructions here: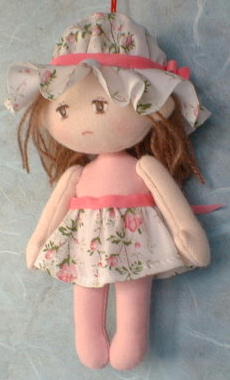 And if you need a quick tutorial on making dolls hair, look here.
Martha Stewart has a cloth doll template (and the dolls look amazing) here.
Here is a link to a list of doll projects: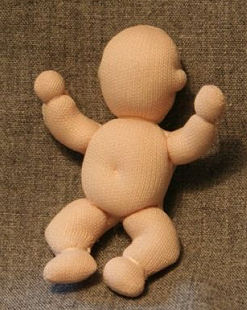 Here is a link to a pattern to make this baby doll. This doll was made in a neutral colour to denote flesh tones, but I think any scraps could be used to make this doll.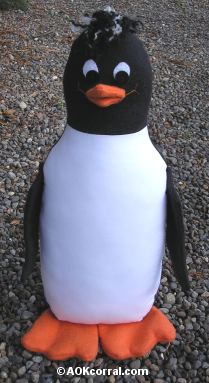 Here is a link to a Penguin Doll. Obviously, you need more fabric , and fabrics of specific colours for this doll.
Here's a site with instructions for sewing, crocheting or making paper dolls.
Do you remember Raggedy Ann? Here's a link and here's a link if you want to make a zombie version.

Amazon.com has a few doll kits available for between $10 and $20
The kit looks cool. I bet any kid would be wowed by this. The customer reviews warn of a long and complicated process though. And since the kit includes tape rather than needle and thread, perhaps it isn't a doll sewing kit. Here's the link.
Here is an American Girl "sew and stuff" kit. The customer reviews are a lot more favourable. Here is the link.