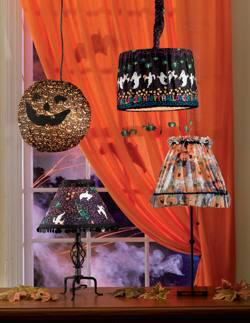 Halloween Lampshade covers from
Joanne Fabrics
Bat Wall Decorations
from Sewing.org
Are you looking to make spooky treat bags? Look at what
Older and Wisor
has done with plain bags from dollarama...Actually, look all over this blog. This woman is seriously talented
Silly Pumpkin Pin Cushions
from allpeoplequilt.com
Fave Crafts has
13 Halloween Sewing Projects
including decorations and costumes...
Free dog costume patterns at
doggiestylish.com
Parenting.com
has 35 easy homemade costume ideas for kids - a lot of these are low-sew but I know that these can be made even better with some sewing skills.
There are 12 Sewing Pumpkin Patterns at
allfreesewing.com
. I like the patterns because they are more fall-based than Halloween-based and so can be displayed longer ....
There is a
long list of links for Halloween
patterns - decorative and costumes - at sewingsupport.com
Sew News has a list of Halloween projects
here
and my favourite is the make-it-yourself masks for a masquerade party
here
Martha Stewart
advertises her list as no-sew but we all know that some sewing skills can always improve these spectualar costumes! I love the silk-leaf swamp costume....
Need to make a mask? Try the pattern from sewing.org
here
Fleecefun.com
has tons of free Halloween patterns and some really remarkable ideas. I love the animal hats pattern
here
.
I love the
frankenstein doll
project at lovetosew.com
I love the
ghost dress
at handmadefuture
Here is a
stuffed pumpkin pattern
that is great for Halloween from about.com....
If you're looking for biblical costume ideas, ther is a pretty good article
here