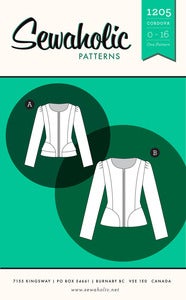 The Hollyburn Skirt and the Cordova Jacket are the patterns I am working on right now.
It's great to be back to the old arrangement - working during the day and sewing in the evenings!
I plan to cut the skirt out tonight and sew it up in the next few days. It's a beginner pattern so I am expecting no surprises. I love the
Sewaholic
patterns because the instructions are so straight forward. There is a sew-along for this skirt by Rachel at
My Messings
...I may make a second skirt in the sew-along just for fun.
This steel grey fabric is from my stash - it is a heavy polyester weave and it is quite versatile.
After the first Hollyburn Skirt, I will get right into the Cordova. Again, I will be choosing fabric from my stash. That damn stash is just too big...I have to widdle it down.
I made my New Years' resolutions in
November
( my sewing ones at least):
finish one new pattern a month (minimum - two would be ideal but not always doable each month)
repeats of patterns need to have a variation (either provided with the pattern or improvised by me)
purchase no new big 4 patterns for one year to encourage me to use the patterns I own - and to change them to match new patterns I like
purchase all the independent patterns I want - they are well made and motivate me to sew more (hey, this challenge is about more sewing not saving money)
purchase no new books (with the exception of the Burda Vintage book and the two I ordered this weekend plus any really, really good thrift shop deals that I can;t pass up!)
sew a wardrobe of clothes that fit, look good and make me feel good

wear the clothes I make