Here is my approach to winter: I count the days until spring. And even with that, I build in some relief. For instance, I consider March 1st a milestone because the worst two months of winter are behind us. And, I reason, even if there continues to be snow and cold, the days are longer and the end is in sight. And that brings me to my next milestone: the time change, this year it will be on March 10th.

Not my car, thank God. Just one that is stalled on the side of the road....

The evenings will be longer and it won't seem so dismal. The third milestone is the spring equinox on March 22? (or 21st? I never know...) because then spring is here and warmer weather should arrive soon....(even though spring is typically quite cool the negatives numbers are gone in the daytime anyway).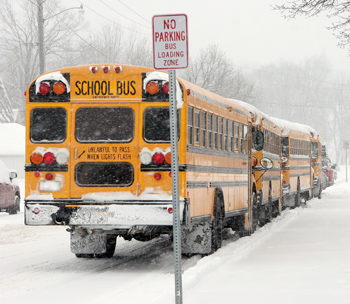 So it is March 4th and it is very cold. It is -6 C as I write this.....It was cold all weekend and all the snow covered fields are ice-covered too. And people have put tons of salt out on the sidewalks to keep others safe. The problem is that the ice bothers my dog's paws and the salt does too.

Even the dog park was an ice rink this weekend!

So I stayed in this weekend with a grumpy basset hound (who blames me for the weather) and no energy to sew.
To
cheer
myself up, I even went fabric shopping. I am excited about the fabrics I bought.....
Parking on a side street near the Fabricland in Hamilton - I never understand when people don't clear the snow off immediately....
And I enrolled in
Sandra Betzina's pants fitting course on Craftsy
because I am slowly plugging away at the
Fearless February Challenge
.
I didn't enrol in this class sooner because I wasn't too impressed with the pattern on offer but then I happened upon
VeryPurplePerson blog
and I loved the pants she made.
I did have plans to take Angela Wolfe's Tailoring Ready-to-Wear course but then I realized that I just don't need that now that I signed up for the very inspiring
Sew Your Own Clothes
for a Year challenge.
And Colleen has
8 Great Reasons to Sew Your Own Clothes
at her amazing sewing blog....I have to do a full review of her fashion sewing blog because it is an amazing resource for us learn-it-yourself sewists....I've recently found a whole lot of great new (to me) sewing blogs!!!