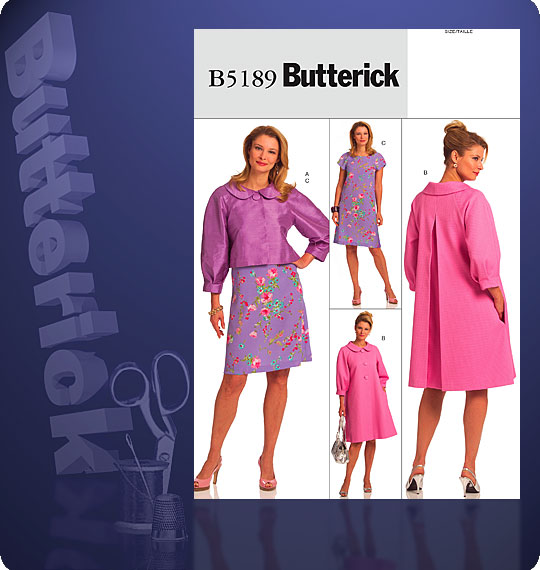 Taken from patternreview.com
I couldn't resist pink buttonholes.
I made all my own seam binding. I used pink broadcloth for everything but the hem. On it I used some quilting cotton in a nice black with the sewing words swirled all over it. I decided to use a different colour for the hem because I've noticed that on many RTW clothes.
Pattern Description: (this is copied and pasted from my patternreview.com review...)

A quick and simple jacket pattern with raglan sleeves and pleats at the cuff.

Pattern Sizing:
8 -24. I cut a size 16 and I found this pattern has quite a bit of ease. I would advise you cut a size smaller than usual.

Did it look like the photo/drawing on the pattern envelope once you were done sewing with it?
Yes!

Were the instructions easy to follow?

Yes, the instructions were easy to follow. There was little information on seam finishes, which I think is needed in an unlined jacket. I used the Hong Kong seam finish for my jacket and I'm happy with it. The pattern also tended to skip steps - something that didn't bother me, since I am an experienced sewist but I think that will keep me from giving it a "great for beginners" rating. For instance, there is no information on opening the inverted pleat in the back of the coat.

What did you particularly like or dislike about the pattern?
I didn't like the pleated cuffs. I think sleeves should taper in. I did follow the instructions and this does work, it just isn't something I will follow a second time. Next time, I will draft the sleeves in a tapering style.

Fabric Used:
I found a similar-to-herringbone upholstery fabric in cotton-polyester that was $4 a metre.

Pattern alterations or any design changes you made:
I ended up taking in the sleeve at the shoulders by about an inch. I also added a button to the front (three aren't enough) and I plan to add a belt and two belt loops.

Would you sew it again? Would you recommend it to others?
I don't think this pattern is for the true beginner. But any advanced beginner could make it with ease. The collar was simple and turned out on the first try. I will use this pattern again but I will sew it in a smaller size and I will change the sleeves.

Conclusion:
This is a good, easy pattern. I chose to make it in a heavier pattern than recommended and it worked out fine.
I may take the bodice in again - I sewed about 1/2 and inch inside the sewing line. I believe it is the drape of the fabric rather than the pattern that has caused this - a more fluid fabric would drape better. So I didn;t add this critique to my patternreview.com review....This is my first pattern review on patternreview.com!!!












Also.....please enter my contest for "How Much Fabric" cards.

They are invaluable! I have no idea what I did before I had these cards...oh, yeah, I bought too much fabric....The draw is one May 12th...