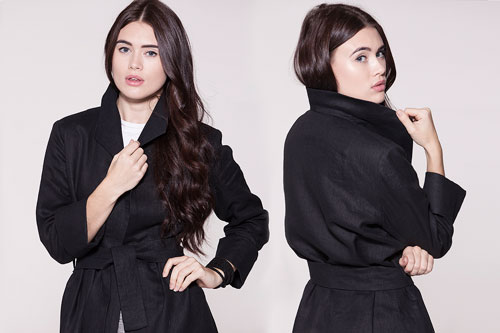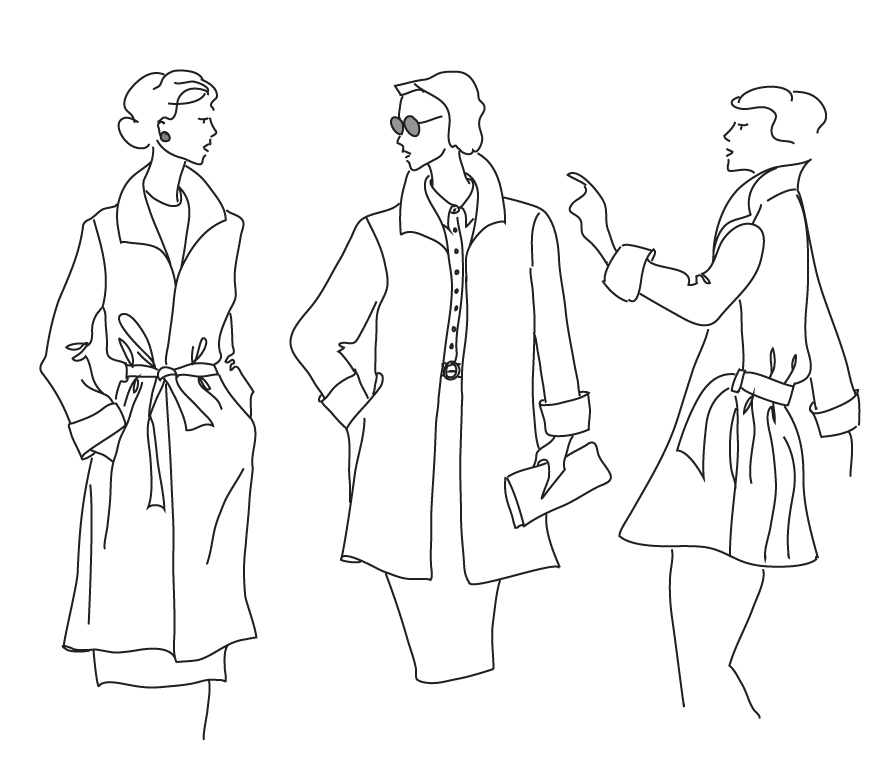 Above are the line drawings and advertisements for Angela Kane's Roll Collar Coat. I love her website. Her patterns are basics and they come with easy to follow instructions and videos to help. This is a great teaching website. I also like that her patterns are made to size and you have your choice of sizes once you sign up for her yearly membership - which is about $25 Cdn.
See the link at the left hand side of this post.
I decided to make this coat with four buttons as part of my Scary September Challenge. I downloaded and printed the pattern last week. I measured the amount of fabric I would need on a table top, marking off 150 cm width and assuming it would be somewhere near 3 metres. I bought 3 and a half metres even though my measuring called for 3.1 metres.
This coat pattern is made to be played with - and that is something I have done often this year....
I am adding three to four buttons to the coat. That is for sure. I may change the length and also make patch pockets. We'll see....I think what I like about sewing right now (and it changes all the time....) is the ability to customize patterns.
Faux Suede
My fabric is a faux suede I picked up on sale a few years ago. I think I paid $4 a metre for it. I remember at the time the saleslady saying that suede doesn't have a grain. But there is some sort of netting on the back and I Googled it. It appears that faux suede can be a weave so I didn't risk it. I cut on the grain. That wasn't a hardship since I am used to measuring and cutting on the grain.
And it definitely had a nap, so I cut with all pieces facing the same direction. Measure once - take a break - go over the layout and then cut. That's what I've learned to do. And since I almost cut this wrong, I am glad I do it.
Some Great Points About Printed Patterns:
I decided to cut my fabric on a single layer because it is napped. I really don't like working with napped fabrics but I have found that working on a single layer works better for me. So I printed the pattern twice and just flipped the pattern pieces so I could arrange and cut all pieces at once. This is a nice perk of printed patterns.
I also decided, after I cut my main fabric, to cut apart the second set to use for interfacing pieces and for lining pieces. Again, a nice perk of printed patterns. (I used a winter lining from my stash in a steel grey. I would have preferred a loud, unexpected print but I am limited to my stash right now...)
The sleeves of this pattern were set-in and I haven't put in sleeves that way since high school. I decided to follow the tutorials to a "T" because they are really teaching videos and I want to learn. I forgot about the gathering used to edge in the set-in sleeve and spent some time wondering why the sleeves were gathered in the instructions but not in the diagrams. Silly me!
Here is where I am at so far...actually I am on lesson 10 (of 17) in the video tutorials!
I need to sew the facing, the sleeves, pockets and sides. I need to finish this fall jacket quickly since the fall weather is here now... Last Wednesday we had a humidex reading of 40' C and on Friday we were at 13 'C....
This jacket is fun and easy to make...I have a link to Angela Kane's patterns to the left of this post....