After spending weeks reading the
Colette Wardrobe Architect
posts, I realized that I am in dire need of this series. So I have been slowly working through what I have, what I need and what I want to wear.
My biggest problem is that I generally have one outfit style I wear everyday to work. But hey, many times I spend 15 minutes a day outside in below 0'C weather - I have to wear pants and boots to work.
I also buy a lot of prints and then have few things for them to go with and so they go unworn.
With some fore-thought I can pull together nice outfits that reflect who I am.
One big benefit to this, is because I sew, I have a lot of wiggle room. I can tweak things I own as I make myself a new wardrobe.
Here are some style boards I found online that I like.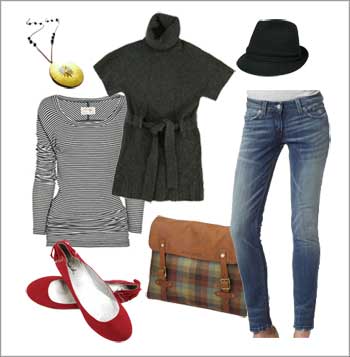 With the exception of the flats, this is pretty much
what I wear all the time. I made the jeans this past week and look at that bag, does it just say Colette Cooper to you? (Source)
This would be a slightly different silhouette that I could do almost immediately.














Here is one I aspire to, and I have the patterns to get going on them. Do you see a Hollyburn skirt or a Ginger skirt in there? (Source: athriftymom.com)








Summer dress, slightly lengthened to knee length, and in warmer colours. (Source)
Source: Colette Style Architect
Source: Colette Style Architect






So I am thinking: 4 dresses, 2 -4 skirts, 2 jeans, 2 nicer pants, 6 tops and blouses, a cape and the Albion jacket. That is a lot of sewing ahead of me.

(Actually one pair of jeans is finished and the ALbion is about half-way finished.)
Butterick 5982 and 5747
Burda Jeans Feb/2014 and the Lindsey Cape 6065and the Peasant Top and Ruffle Top, both March/ 2014






Thurlow Trousers
Renfrew top (Cowl and long-sleeved t-shirts)
Albion - mine is the longer version with a hood but it is for spring.
Ginger skirt and the Hawthorn and Crepe dresses below
But as I said, I currently have only one style and I should have three or four. I am aiming for two right now. I can only do so much sewing! These are the patterns I am thinking of making. Things change and some of these patterns may be changed out for others. But I love the idea of sewing the wardrobe I want.
Tonight: Cut out my Burda jeans pattern and rest. It has been a long day!