I have a guilty pleasure. I read Kijiji ads for sewing machines all the time. I am an addict. I just love reading about these machine - and sometimes I even buy one or I try to. (A few weeks ago someone was selling a Bernina 801 for $20 and I was going to snap it up - even if I had to invest $100 in parts and fixing it up it would still be a great deal...but it was gone by the time I got there.)
I came across a cool ad for a Singer 328 (which looks like my Singer 401). The person posting this ad had a unique
selling point.
...I have provided the link but since it will be taken down when sold I thought I would also copy it here...

"It's the same Singer model that Joan O'Malley sewed the first Canadian Maple Leaf flag 50 years ago."...(for $35)
What a great piece of Canadian Sewing History....I mean we have all heard of the seamstress who made the American Flag, Betsy Ross.
Betsy Ross and the American Flag
From History.com
Ross wasn't credited with sewing the first American flag in her lifetime

In fact, her story was first publicly relayed to the Historical Society of Pennsylvania nearly a century later, in 1870, by her grandson, William Canby.

Ross often recalled to her grandson a visit she had received in late May or early June of 1776 from three men: General George Washington, Robert Morris and George Ross. During this meeting, she was allegedly presented with a sketch of a flag that featured 13 red and white stripes and 13 six-pointed stars, and was asked if she could create a flag to match the proposed design.

No official documentation has been found to confirm that Betsy Ross was responsible for creating the very first flag, but it is conceivable that Colonel George Ross—the uncle of Betsy's recently deceased husband, John—recommended her for the job as a favor to his relative.

Betsy may also have been acquainted with both Washington and Morris, who were reported to have worshiped at the same church she attended.

It has also been established that Ross did indeed make flags, as evidenced by a receipt for the sum of more than 14 pounds paid to her on May 29, 1777, by the Pennsylvania State Navy Board for making "ships colors."

Betsy Ross is believed to have sewn the flag but there is some dispute as to who designed it...
But who was Joan O'Malley?
(Based on a story here from the Ottawa Citizen)
Liberal Party leader Lester B Pearson in 1963 when he was running for Prime Minister of Canada. He promised that if elected, he would deliver a new national flag for Canada. Pearson was elected (albeit to a minority government) and he did begin the process for a new flag. Canadians were consulted - and responded with 6000 design suggestions - and heated debates over the choices were soon dominating Parliament. There was even a fist fight! (And people think Canadians are boring!)
Eventually, the choices were narrowed to three:
one with a sprig of three red maple leaves and blue borders favoured by Pearson, the Pearson Pennant as it became known
2. another based on the Red Ensign, for which Progressive Conservative leader and former prime minister John Diefenbaker valiantly fought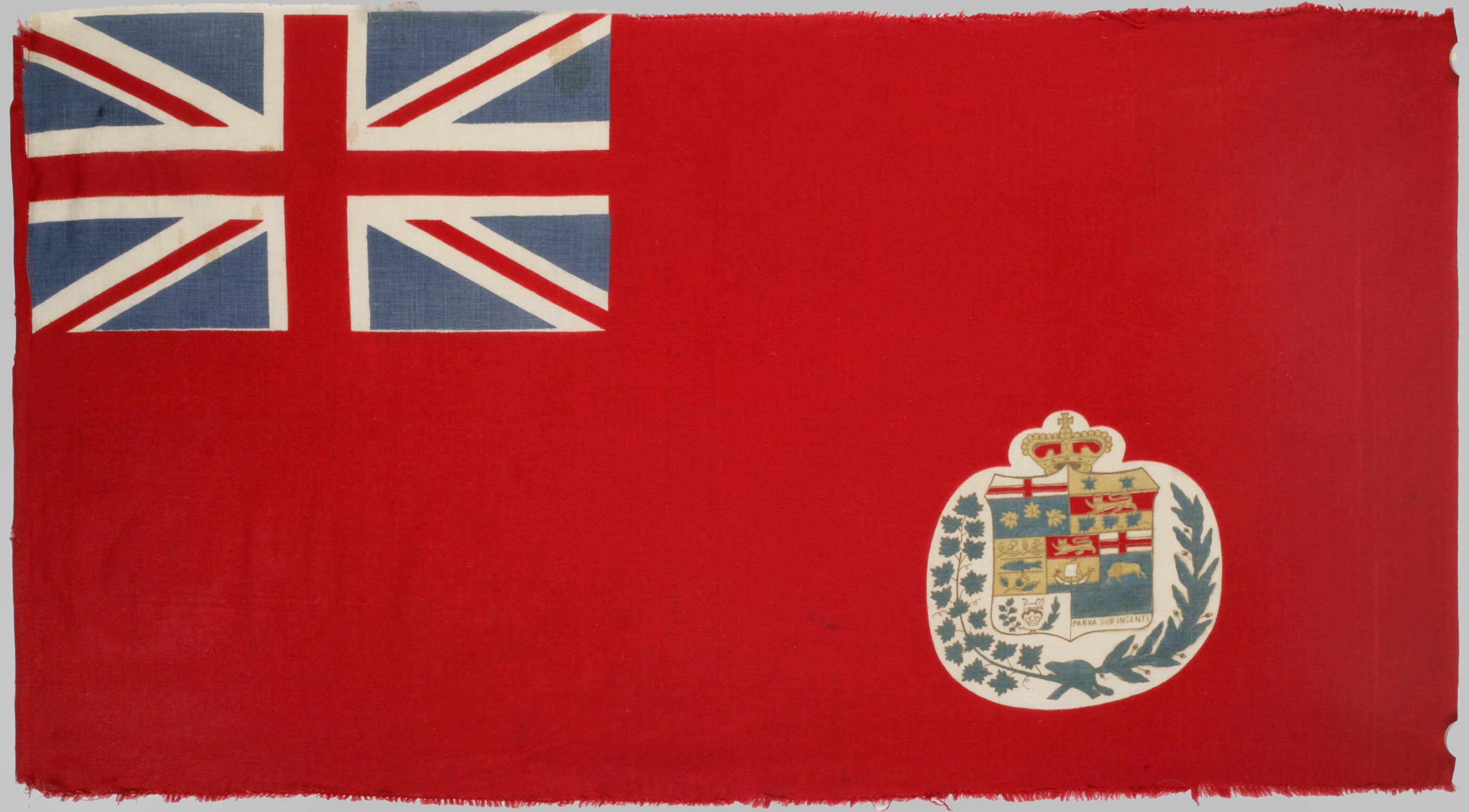 3. and one with a single leaf and red borders (the eventual winner)
A month later, Prime Minister Pearson asked for the prototypes of all three flags to be brought to him at his residence, 24 Sussex Drive, so that he could fly each when he went to his cottage that weekend.
The designs only existed on paper. And Donovan O'Malley thought of his daughter who loved to sew. And so he called her one night in November 1964.
And she set to work. But she worked on only one flag and it was the only candidate that flew for Prime Minister Pearson at his cottage.
Donovan O'Malley loved to brag: "Betsy Ross sewed the first American flag. Joan is going to sew the first Canadian flag."
Against two other designs on paper, the flag that O'Malley made easily won the day. How could a drawing compare with the majesty of a real flag flapping in the wind?
"Sewing the flag was not easy," she recalled in an interview on the 30th anniversary of the flag. "I was no professional — I had just sewed some of my clothes before this. My sewing machine wasn't made for such heavy material." (Oh don't we all know non-sewers who think our sewing skills are akin to magic!)
Today, 50 years later, O'Malley, now a grandmother, admits that at the time she felt no great sense of accomplishment at what she'd done, no sense that she'd earned a mention in the history books.
"I didn't think we were making history that night; now I see I was fortunate to be part of the birth of our flag. But at the time — I was told not to say anything because it was a secret — I thought, 'Thank God that's over, I'm tired.'"
And about her dad - "he was so excited to do this project. He loved Canada because it gave him a better life, and to have his daughter sew the Canadian flag, he was so proud.
"Afterwards, whenever my father would see the flag, he'd say 'there's Joan's flag.'"
Photo Source Joan O'Malley(with her Singer 328) were honoured in Ottawa for her work in making the first Canadian Flag.