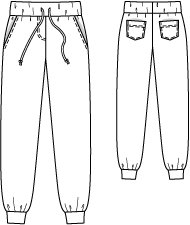 These are sweat pants from the March 2014 issue that I made into pjs using fabric from my stash. I removed the cuffs and shortened the legs and miscalculated. So I have to add a cuff back in - in a different fabric. Also I omitted the pockets.
Here
is the link to these (I plan to make the cardigan on this page too).
I used a shirting cotton - I only had a little over a metre so I really had to 'measure twice and cut once'
I added these cuffs - from an old sheet that I have since used a muslin but luckily I had a little left over to add length to these pjs
Ta -da! February Burda Challenge Completed.